One number for more information: Tel. 0810 797 797 (Service € 0.054 / min + cost of a local call)
One mail: accueil@ouest-lareunion.com
We welcome you to our three tourist information offices:
Saint-Gilles : in the heart of the Reunion resort
1, place Paul Julius Bénard
Open 7 days 7
(Single Office of Tourism of the Island to be open 7/7)
362 days a year (only closed on 1 January, 1 May and 25 December)
10h-13h and 14h- 18h
Saint-Leu: At the northern entrance to Saint-Leu
Bat Laleu 1, rue the Barrelier
Open Monday to Friday 9 am-12pm and 13h30-17h30
Saturday 9h-12h and 14h-17h
Port: In city center
22 Lepervanche Leon Street
97420 Port
Monday to Friday 9h00-12h30 and 13h30-17h00
You can also find us on social networks :
Facebook: West Tourism Reunion
Twitter: West Reunion
YouTube channel: Reunion West Tourism
Pinterest: West Tourism Meeting
Instagram: West Tourism Reunion
Tripadvisor: leave your opinion!
You can also download our application: St. Paul Monument Tracker to explore Saint Paul, City of Art and History
Our missions mainly:
To accommodate you
Inform you
Promote the Western Territory Reunion
You can in our tourist information offices book :
your nights in mountain lodges, guest houses, holiday rentals, hotels ...
your hobbies
We are reseller of regional booking center.
You can also buy in our three information offices :
your good vacation plans with the "Zarlor" - Western treasures
fly your helicopter with Coral Helicopter and Helilagon
your gourmet Passport
your tips Groupanoo
your bus tickets (Kar West) and tickets for the bus as yellow (for Car Yellow: only at the tourist information office of Saint-Gilles)
tickets to shows all over the island (point of sale monticket.re - Saint-Gilles and Saint-Leu - and departmental theaters - only Saint-Gilles)
The West Tourist Office is registered in the register of travel and residential sales operators IM978140001
We are a team of 21 people.
The Directorate ensured by Ms. Nadira Maleck Bertrand ( direction@ouest-lareunion.com ) is supported on three areas:
- Resources / Development / Quality, led by Dominique Canaguy, Assistant Director - d.canaguy@ouest-lareunion.com
- Production / Promotion / Special Events, led by Dominique Payet, Assistant Director - d.payet@ouest-lareunion.com
- Communication / Marketing / E-tourism, led by Stephanie Jautzy, Head of division - communication@ouest-lareunion.com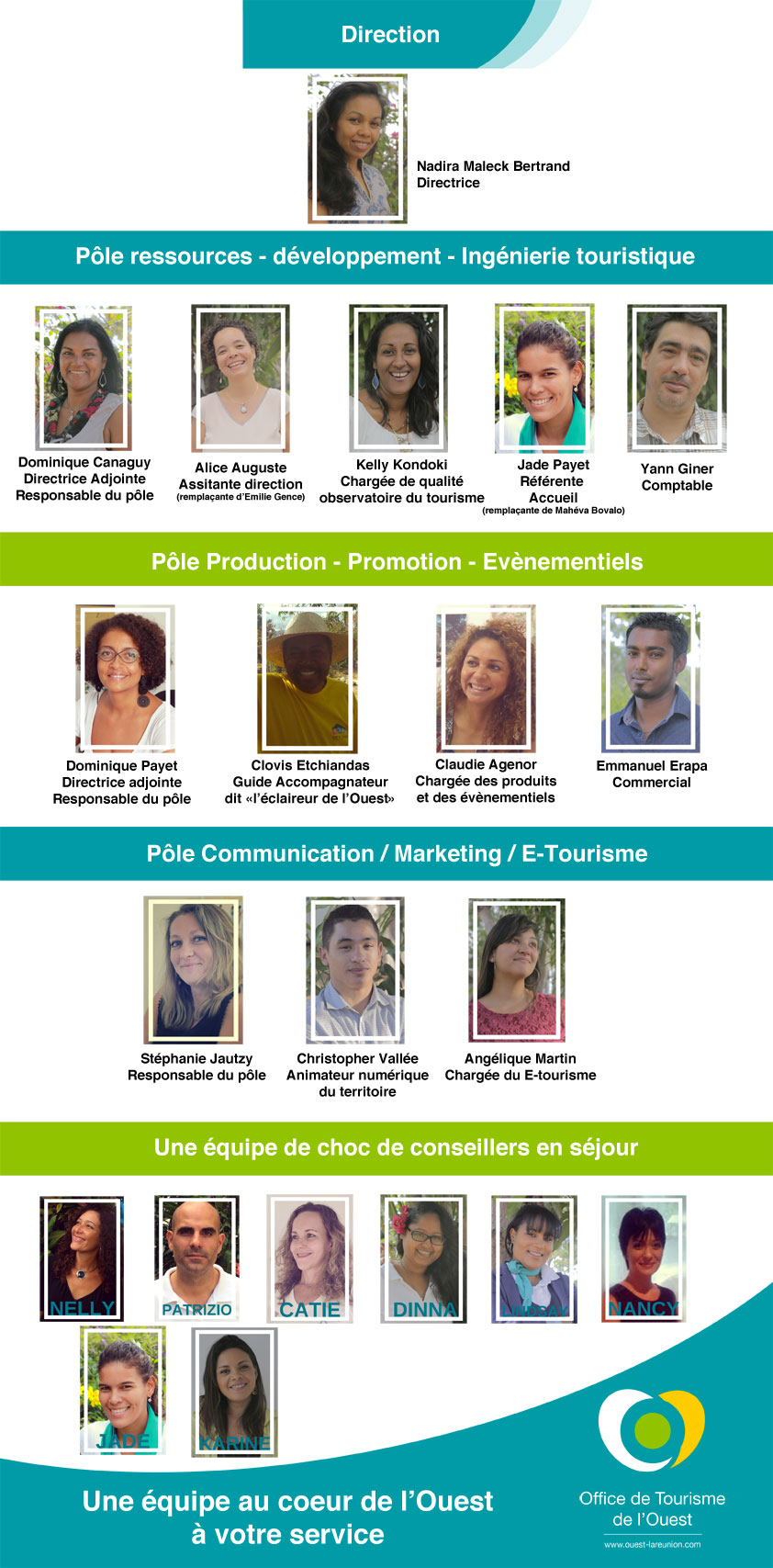 Administrative Information:
Our status: an EPIC - public industrial and commercial.
Our budget comes to share our EPIC status, mainly from the City tax and, on certain actions, grants Reunion Region, TCO, the Casino de Saint-Gilles. The tax is therefore of the Tourist Office key success.
Thus, anyone offering tourist accommodation is in the legal obligation to collect the tourist tax from its customers and pay back to the community referent or from 1 January 2014 for the entire West territory.

Our operation:
Our President is appointed by the TCO. This is Patricia LOCAME MACHADO
She serves on the Executive Committee, composed of elected representatives and socio-professional.
The Committee of valid management actions and operation of the Tourist Office, it meets at least six times a year.